Product Summary
The CY7C291A-35WC is an Reprogrammable PROM.
Parametrics
CY7C291A-35WC absolute maximum ratings: (1)Storage Temperature : –65℃ to +150℃; (2)Ambient Temperature with Power Applied : –55℃ to +125℃; (3)Supply Voltage to Ground Potential : –0.5V to +7.0V; (4)DC Voltage Applied to Outputs in High Z State : –0.5V to +7.0V; (5)DC Input Voltage : –3.0V to +7.0V; (6)DC Program Voltage : 13.0V; (7)UV Exposure : 7258 Wsec/cm2; (8)Static Discharge Voltage : >2001V(per MIL-STD-883, Method 3015); (9)Latch-Up Current : >200 mA.
Features
CY7C291A-35WC features: (1)Windowed for reprogrammability; (2)CMOS for optimum speed/power; (3)EPROM technology 100% programmable; (4)Slim 300-mil or standard 600-mil packaging available; (5)5V ±10% VCC, commercial and military; (6)TTL-compatible I/O; (7)Direct replacement for bipolar PROMs; (8)Capable of withstanding >2001V static discharge.
Diagrams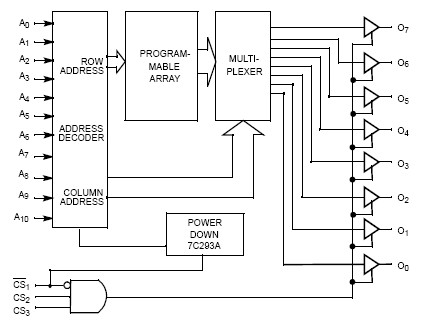 Image
Part No
Mfg
Description
Pricing
(USD)
Quantity

CY7C291A-35WC

Other



Data Sheet

Negotiable
Image
Part No
Mfg
Description
Pricing
(USD)
Quantity

CY7C006

Other



Data Sheet

Negotiable

CY7C006A

Other



Data Sheet

Negotiable

CY7C006A-15AXC

Cypress Semiconductor

SRAM 5V 16Kx8 COM Dual Port SRAM

Data Sheet

Negotiable

CY7C006A-15AXCT

Cypress Semiconductor

SRAM 5V 16Kx8 COM Dual Port SRAM

Data Sheet

Negotiable

CY7C006A-20AC



IC SRAM 16KX8 DUAL 64LQFP

Data Sheet

Negotiable

CY7C006A-20AXC

Cypress Semiconductor

SRAM 5V 16Kx8 COM Dual Port SRAM

Data Sheet



| | |
| --- | --- |
| 0-1: | $16.80 |
| 1-25: | $13.44 |
| 25-100: | $12.59 |
| 100-250: | $11.76 |