Product Summary
The MC68302RC16C is a Integrated Multiprotocol Processor. The MC68302RC16C integrated multiprotocol processor (IMP) is a very large-scale integration (VLSI) device incorporating the main building blocks needed for the design of a wide variety of controllers. The MC68302RC16C is especially suitable to applications in the communications industry. The IMP is the first device to offer the benefits of a closely coupled, industry-standard M68000 microprocessor core and a flexible communications architecture. The IMP may be configured to support a number of popular industry interfaces, including those for the Integrated Services Digital Network (ISDN) basic rate and terminal adaptor applications. Concurrent operation of different protocols is easily achieved through a combination of architectural and programmable features. Data concentrators, line cards, modems, bridges, and gateways are examples of suitable applications for this device.
Parametrics
MC68302RC16C absolute maximum ratings: (1)Supply Voltage : -0.3 to +7.0V; (2)Input Voltage : -0.3 to +7.0V; (3)Operating Temperature Range : -40 to 85℃; (4)Storage Temperature Range : -55 to +150℃.
Features
MC68302RC16C features: (1)On-Chip HCMOS MC68000/MC68008 Core Supporting a 16- or 8-Bit M68000 Family-System; (2)IB Including : Independent Direct Memory Access (IDMA) Controller with Three Handshake Signals : DREQ; DACK; and DONE; (3)Interrupt Controller with Two Modes of Operation; (4)Parallel Input/Output (I/O) Ports, Some with Interrupt Capability; (5)On-Chip 1152-Byte Dual-Port RAM; (6)Three Timers Including a Watchdog Timer; (6)Four Programmable Chip-Select Lines with Wait-State Generator Logic; (7)Programmable Address Mapping of the Dual-Port RAM and IMP Registers; (8)On-Chip Clock Generator with Output Signal.
Diagrams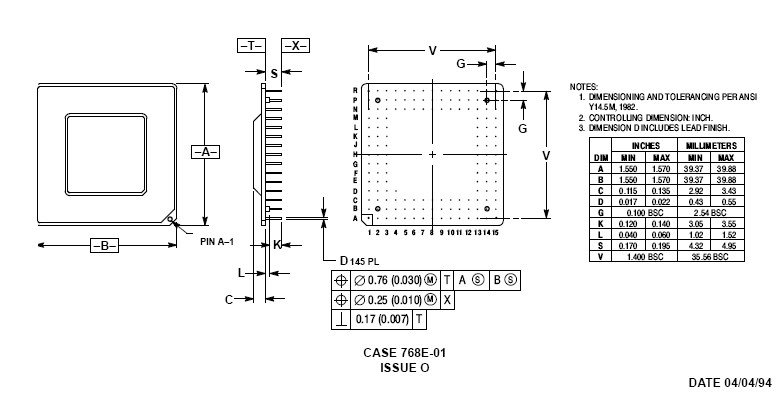 Image
Part No
Mfg
Description
Pricing
(USD)
Quantity

MC68302RC16C

Freescale Semiconductor

Microprocessors (MPU) 68K INTGR COM PROC DMA

Data Sheet



| | |
| --- | --- |
| 0-1: | $52.54 |
| 1-25: | $50.06 |
| 25-100: | $45.58 |

Image
Part No
Mfg
Description
Pricing
(USD)
Quantity

MC6800

Other



Data Sheet

Negotiable

MC6801

Other



Data Sheet

Negotiable

MC68020

Other



Data Sheet

Negotiable

MC68020CEH16E

Freescale Semiconductor

Microprocessors (MPU) 32-BIT MPU

Data Sheet

Negotiable

MC68020CEH25E

Freescale Semiconductor

Microprocessors (MPU) 32-BIT MPU

Data Sheet

Negotiable

MC68020CRC16E

Freescale Semiconductor

Microprocessors (MPU) 32-BIT MPU

Data Sheet

Negotiable