Product Summary
The 6N140 is a High Gain Optocoupler. These units are single, dual, and quad channel, hermetically sealed optocouplers. The products are capable of operation and storage over the full military temperature range and can be purchased as either standard product or with full MIL-PRF-38534 Class Level H or K testing or from the appropriate DSCC Drawing. All devices are manufactured and tested on a MIL-PRF-38534 certified line and are included in the DSCC Qualified Manufacturers List QML- 38534 for Hybrid Microcircuits.
Parametrics
6N140 absolute maximum ratings: (1)Storage Temperature Range : -65℃ to +150℃; (2)Operating Temperature : -55℃ to +125℃; (3)Case Temperature : +170℃; (4)Junction Temperature : +175℃; (5)Lead Solder Temperature : 260℃ for 10s; (6)Output Current : 40 mA; (7)Output Voltage : -0.5 to 20 V; (8)Supply Voltage : -0.5 to 20 V; (9)Output Power Dissipation (Each Channel) : 50 mW; (10)Peak Input Current (Each Channel, <1 ms Duration) : 20 mA; (11)Average Input Current : 10 mA; (12)Reverse Input Voltage : 5V; (13)Package Power Dissipation : 200 mW.
Features
6N140 features: (1)Dual Marked with Device Part Number and DSCC Drawing Number; (2)Manufactured and Tested on a MIL-PRF-38534 Certified Line; (3)QML-38534, Class H and K; (4)Five Hermetically Sealed Package Configurations; (5)Performance Guaranteed, Over -55℃ to +125℃; (6)Low Input Current Requirement : 0.5 mA; (7)High Current Transfer Ratio: 1500% Typical IF = 0.5 mA; (8)Low Output Saturation Voltage : 0.11 V Typical; (9)1500 Vdc Withstand Test Voltage; (10)High Radiation Immunity; (11)6N138/9, HCPL-2730/31 Function Compatibility; (12)Reliability Data.
Diagrams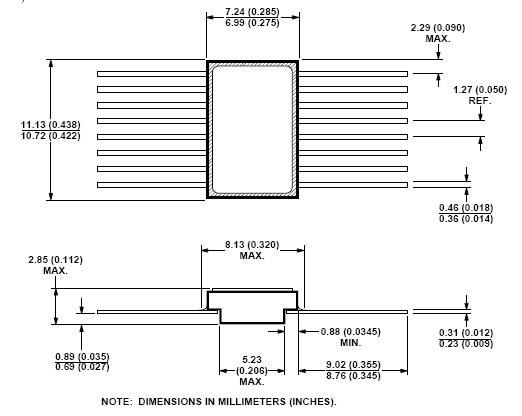 Image
Part No
Mfg
Description
Pricing
(USD)
Quantity

6N140A

Avago Technologies

Logic Output Optocouplers 4Ch 1500%CTR Hermetically sealed

Data Sheet



| | |
| --- | --- |
| 0-1: | $42.97 |
| 1-25: | $32.23 |
| 25-100: | $30.08 |


6N140A#100

Avago Technologies

Logic Output Optocouplers 4Ch 1500%CTR Hermetically sealed

Data Sheet



| | |
| --- | --- |
| 0-7: | $43.27 |
| 7-25: | $32.45 |
| 25-100: | $30.29 |


6N140A#300

Avago Technologies

Logic Output Optocouplers 4Ch 1500%CTR Hermetically sealed

Data Sheet



| | |
| --- | --- |
| 0-1: | $44.17 |
| 1-25: | $33.13 |
| 25-100: | $30.92 |


6N140A/883B

Avago Technologies

Logic Output Optocouplers 4Ch 1500%CTR Hermetically sealed

Data Sheet



| | |
| --- | --- |
| 0-1: | $49.43 |
| 1-25: | $37.07 |
| 25-100: | $34.60 |


6N140A/883B#200

Avago Technologies

Logic Output Optocouplers 4Ch 1500%CTR Hermetically sealed

Data Sheet



| | |
| --- | --- |
| 0-7: | $49.73 |
| 7-25: | $37.30 |
| 25-100: | $34.81 |


6N140A/883B#600

Avago Technologies

Logic Output Optocouplers 4Ch 1500%CTR Hermetically sealed

Data Sheet



| | |
| --- | --- |
| 0-7: | $49.73 |
| 7-25: | $37.30 |
| 25-100: | $34.81 |


6N140TXV

Avago Technologies

Logic Output Optocouplers 4Ch 1500%CTR Hermetically sealed

Data Sheet



| | |
| --- | --- |
| 0-4: | $95.58 |
| 4-25: | $71.69 |
| 25-100: | $66.91 |


6N140A#200

Avago Technologies

Logic Output Optocouplers 4Ch 1500%CTR Hermetically sealed

Data Sheet



| | |
| --- | --- |
| 0-7: | $43.27 |
| 7-25: | $32.45 |
| 25-100: | $30.29 |