Product Summary
The MAX319MJA is a CMOS Analog Switch. The MAX319MJA is fabricated with Maxim's new improved silicon-gate process. Design improvements guarantee extremely low charge injection (10pC), low power consumption (35μW), and electrostatic discharge (ESD) greater than ±2000V. The 44V maximum breakdown voltage allows rail-to-rail analog signal handling capability. The applications of the MAX319MJA include Sample-and-Hold Circuits, Guidance and Control Systems, Heads-Up Displays, Test Equipment, Military Radios, Communications Systems, Battery-Powered Systems, PBX and PABX.
Parametrics
MAX319MJA absolute maximum ratings: (1)Voltage Referenced to V- V+ : +44V; (2)GND : +25V; (3)VL : (GND - 0.3V) to (V+ + 0.3V); (4)IN, COM, NC, NO : (V- - 2V) to (V+ + 2V) or 30mA; (5)Continuous Current (any terminal) : 30mA; (6)Peak Current, NC, NO, COM (pulsed at 1ms, 10% duty cycle max) : 100mA; (7)ESD : ±2000V; (7)Continuous Power Dissipation (TA = +70℃) Plastic DIP (derate 9.09mW/℃ above +70℃) : 727mW; (8)SO (derate 5.88mW/℃ above +70℃) : 471mW; (9)CERDIP (derate 8.00mW/℃ above +70℃) : 640mW; (15)Operating Temperature Ranges : -55℃ to +150℃; (16)Lead Temperature (soldering, 10sec) : +300℃.
Features
MAX319MJA features: (1)Low On Resistance <20Ω Typical (35Ω Max); (2)Guaranteed Matched On Resistance Between Channels <2Ω; (3)Guaranteed Flat On Resistance over Analog Signal Range Δ3Ω Max; (4)Guaranteed Charge Injection <10pC; (5)Guaranteed Off-Channel Leakage <6nA at +85℃; (6)ESD Guaranteed > 2000V per Method 3015.7; (7)Single-Supply Operation (+10V to +30V) Bipolar-Supply Operation (±4.5V to ±20V); (8)TTL-/CMOS-Logic Compatible; (9)Rail-to-Rail Analog Signal Handling Capability.
Diagrams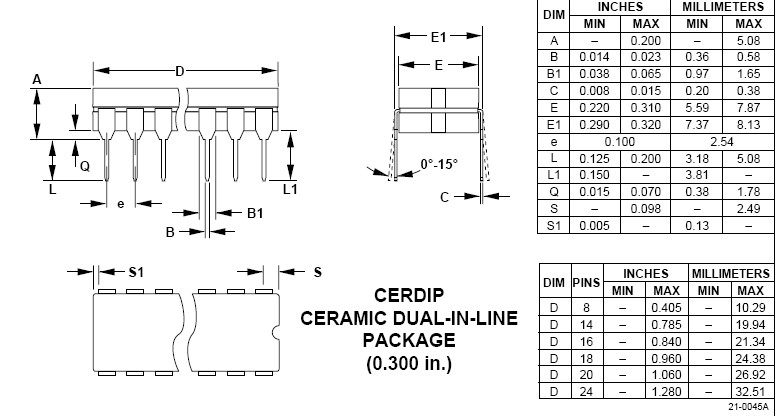 Image
Part No
Mfg
Description
Pricing
(USD)
Quantity

MAX319MJA

Maxim Integrated Products

Analog Switch ICs

Data Sheet

Negotiable
Image
Part No
Mfg
Description
Pricing
(USD)
Quantity

MAX3000E

Other



Data Sheet

Negotiable

MAX3000EEBP-T

Maxim Integrated Products

Translation - Voltage Levels

Data Sheet

Negotiable

MAX3000EEUP

Maxim Integrated Products

Translation - Voltage Levels

Data Sheet

Negotiable

MAX3000EEUP+

Maxim Integrated Products

Translation - Voltage Levels 1.2-5.5V .1uA 35Mbps 8Ch

Data Sheet



| | |
| --- | --- |
| 0-1: | $2.76 |
| 1-25: | $1.84 |
| 25-50: | $1.36 |
| 50-100: | $1.32 |


MAX3000EEUP+T

Maxim Integrated Products

Translation - Voltage Levels 1.2-5.5V .1uA 35Mbps 8Ch

Data Sheet



| | |
| --- | --- |
| 0-2080: | $1.16 |
| 2080-2500: | $1.16 |


MAX3000EEUP-T

Maxim Integrated Products

Translation - Voltage Levels

Data Sheet

Negotiable