Product Summary
The ICL8038CCPD is a Peripheral Interface Adapter. The ICL8038CCPD Peripheral Interface Adapter provides the universal means of interfacing peripheral equipment to the HD6800 Microprocessing Unit (MPU). This device is capable of interfacing the MPU to peripherals through two 8-bit bi• directional peripheral data buses and four control lines. No external logic is required for interfacing to most peripheral devices. The functional configuration of the PIA is programmed by the MPU during system initialization. Each of the peripheral data lines can be programmed to act as an input or output, and each of the four control/interrupt lines may be programmed for one of several control modes. This allows a high degree of flexibility in the over-all operation of the interface.
Parametrics
ICL8038CCPD absolute maximum ratings: (1)Supply Voltage (V- to V+) : 36V; (2)Input Voltage (Any Pin) : V- to V+; (3)Input Current (Pins 4 and 5) : 25mA; (4)Output Sink Current (Pins 3 and 9) : 25mA.
Features
ICL8038CCPD features: (1)Low Frequency Drift with Temperature : 250ppm/℃; (2)?Low Distortion : 1% (Sine Wave Output); (3)High Linearity : 0.1% (Triangle Wave Output); (4)Wide Frequency Range : 0.001Hz to 300kHz; (5)Variable Duty Cycle : 2% to 98%; (6)High Level Outputs : TTL to 28V; (7)Simultaneous Sine, Square, and Triangle Wave Outputs; (8)Easy to Use - Just a Handful of External Components Required.
Diagrams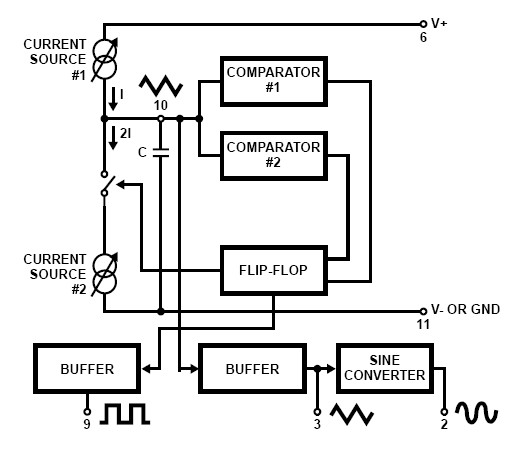 Image
Part No
Mfg
Description
Pricing
(USD)
Quantity

ICL8038CCPD

Other



Data Sheet

Negotiable
Image
Part No
Mfg
Description
Pricing
(USD)
Quantity

ICL8001G

Infineon Technologies

LED Lighting Drivers SGL STAGE FLYBCK PFC CTLR LED LIGHT APP

Data Sheet



| | |
| --- | --- |
| 0-1790: | $0.92 |
| 1790-2000: | $0.88 |
| 2000-2500: | $0.88 |
| 2500-5000: | $0.84 |


ICL8038

Other



Data Sheet

Negotiable

ICL8038ACJD

Other



Data Sheet

Negotiable

ICL8038CCJD

Other



Data Sheet

Negotiable

ICL8038CCPD

Other



Data Sheet

Negotiable

ICL8048

Other



Data Sheet

Negotiable