Product Summary
The AD711AQ is a BiFET Op Amp. The AD711AQ is a high speed, precision monolithic operational amplifier offering high performance at very modest prices. Its very low offset voltage and offset voltage drift are the results of advanced laser wafer trimming technology. These performance benefits allow the user to easily upgrade existing designs that use older precision BiFETs and, in many cases, bipolar op amps. The superior ac and dc performance of this op amp makes it suitable for active filter applications. With a slew rate of 16 V/ms and a settling time of 1 ms to ±0.01%, the AD711AQ is ideal as a buffer for 12-bit D/A and A/D Converters and as a high-speed integrator. The settling time is unmatched by any similar IC amplifier. The combination of excellent noise performance and low input current also make the AD711AQ useful for photo diode preamps. Common-mode rejection of 88 dB and open loop gain of 400 V/mV ensure 12-bit performance even in high-speed unity gain buffer circuits.
Parametrics
AD711AQ absolute maximum ratings: (1)Supply Voltage : ±18 V; (2)Internal Power Dissipation : 500 mW; (3)Input Voltage : ±18 V; (4)Output Short Circuit Duration : Indefinite; (5)Differential Input Voltage : +VS and –VS; (6)Storage Temperature Range (Q, H) : –65℃ to +150℃; (7)Storage Temperature Range (N) : –65℃ to +125℃; (8)Operating Temperature Range : –40℃ to +85℃; (9)Lead Temperature Range (Soldering 60 sec) : +300℃.
Features
AD711AQ features: (1)Settles to 60.01% in 1.0 μs; (2)Available in Plastic Mini-DIP, Plastic SO, Hermetic Cerdip, and Hermetic Metal Can Packages.
Diagrams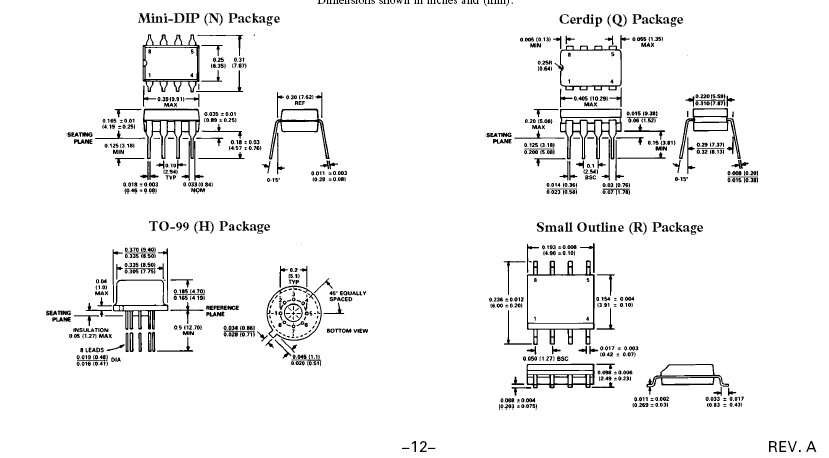 Image
Part No
Mfg
Description
Pricing
(USD)
Quantity

AD711AQ



IC OPAMP BIFET PREC 25MA 8CDIP

Data Sheet



| | |
| --- | --- |
| 0-1: | $4.01 |
| 1-10: | $3.61 |
| 10-100: | $2.97 |
| 100-250: | $2.73 |
| 250-500: | $2.49 |
| 500-1000: | $2.17 |
| 1000-2500: | $2.14 |

Image
Part No
Mfg
Description
Pricing
(USD)
Quantity

AD71049AR-RL

Analog Devices Inc.

IC ENERGY METERING 24-SOIC TR

Data Sheet

Negotiable

AD71056AR

Analog Devices Inc

IC ENERGY METER W/OSC 16-SOIC

Data Sheet

Negotiable

AD71056AR-RL

Analog Devices Inc

IC ENERGY METER W/OSC 16-SOIC

Data Sheet

Negotiable

AD71056ARZ



IC ENERGY METERING 1PHASE 16SOIC

Data Sheet



| | |
| --- | --- |
| 0-1: | $1.77 |
| 1-10: | $1.58 |
| 10-100: | $1.30 |
| 100-250: | $1.17 |
| 250-500: | $1.05 |
| 500-1000: | $0.88 |
| 1000-2500: | $0.84 |


AD71056ARZ-RL



IC ENERGY METERING 1PHASE 16SOIC

Data Sheet



AD711

Other



Data Sheet

Negotiable